8mm Creepage & Clearance with 2xMOPP Level.10W DC-DC Converter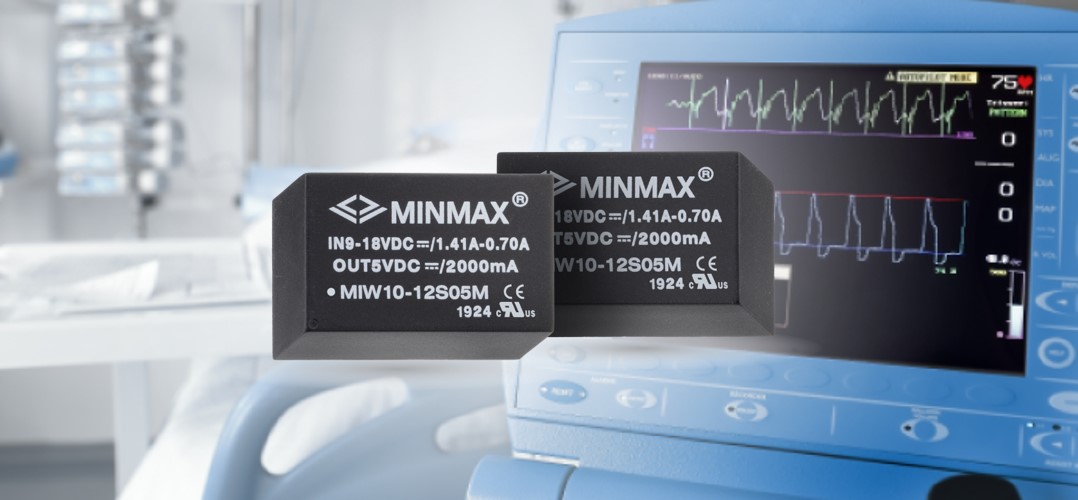 MIW10M SERIES
The MINMAX MIW10M series is a new range of high performance 10W medical safety approved DC-DC converter within encapsulated DIP-24 package which specifically design for medical application.There are 24 models available for input voltage of 9-18, 18-36, 36-75 VDC. The I/O isolation is specified for 5000VAC with reinforced insulation, which rated for 250Vrms working voltage.
Further features include under-voltage, overload, and short circuit protection, low leakage current 2μA max. and operating ambient temp. range by -40°C to 90°C without derating by high efficiency up to 88%.
The MIW10M series conforms to 4th edition medical EMC standard, medical safety approval meets 2xMOPP(Means of Patient Protection) per 3rd edition of IEC/EN 60601-1 & ANSI/AAMI ES60601-1. The MIW10M series offers a powerful solution for demanding application in medical instrument requesting a certified supplementary and reinforced insulation system to comply with latest medical safety approved for 2x MOPP requirement.
Product Features
Wide 2:1 Input Voltage Range
Fully Regulated Output Voltage
I/O Isolation 5000VAC with Reinforced Insulation, rated for 250Vrms Working Voltage
Creepage & Clearance Distance meet 8mm
Low Leakage Current < 2µA
Operating Ambient Temp. Range -40 ℃ to 90 ℃
No Min. Load Requirement
Under-Voltage, Overload and Short Circuit Protection
Conducted EMI EN 55011 Class A & FCC Level A Approved
Medical EMC Standard with 4th Edition of EMI EN 55011 and EMS EN 60601-1-2 Approved
Medical Safety with 2xMOPP per 3rd Edition of IEC/EN 60601-1 & ANSI/AAMI ES60601-1 Approved with CE Marking

Documentation including datasheets, safety reports, compliance statements and 3D models are available from our website. Models are in stock and available for immediate evaluation.
See more detail about MIW10M Series