New Ultra-compact 15W AC-DC Power Modules for space critical applications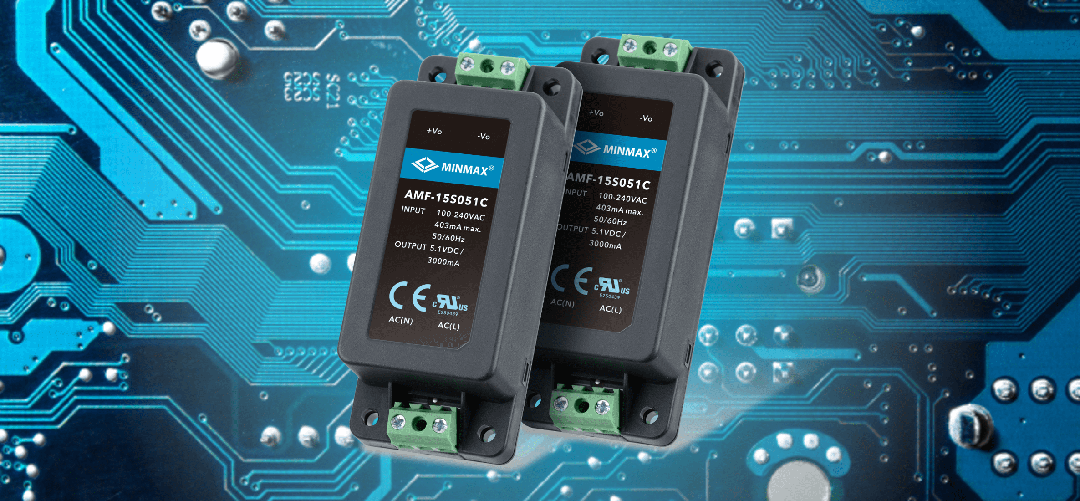 AMF-15 SERIES
The MINMAX AMF-15 series is a new generation of fully encapsulated AC-DC power supply modules with ultra-compact size for higher power density and space saving.
The product features universal AC input 85-264VAC and wider DC input 90-370VDC, regulated output voltages 5.1, 12, 15, 24, 48VDC ; I/O Isolation 3000VAC with Reinforced Insulation ; EMI emission EN55014-1/32 Class B and EMS immunity EN 61000-4 standards approved ; no min. load requirement and low no-load power consumption; abnormal protection mechanism with output overload, short circuit and overvoltage protections.
The AMF-15 series equips with PCB, Chassis and DIN-Rail Mounting Version for flexible installation and comply with UL/IEC/EN 62368-1 & IEC/EN 60335-1 for safety usage. It provides a cost effective solution especially for space critical applications in industrial and household electronic equipment.
Product Features
Ultra Compact Size 2.06x1.07x0.93 "
Fully Encapsulated Plastic Case for PCB, Chassis and DIN-Rail Mounting Version
Universal Input 85-264VAC, 90-370VDC, 47-440Hz
I/O Isolation 3000VAC with Reinforced Insulation
No Min. Load Requirement & Low no-load power consumption
Operating Ambient Temp. Range -40℃ to +70℃
Overload/Voltage and Short Circuit Protection
EMI Emission EN55014-1/55032 Class B Approved
EMS Immunity EN61000-4-2,3,4,5,6,8,11 Approved
Safety Approval to UL/cUL/IEC/EN 62368-1, IEC/EN 60335-1 & CE Marking

See more detail about AMF-15 Series